COVID-19 has forced organizations of all sizes and sectors to adapt to a digital model, with impacts that will likely last beyond the pandemic. Churches are no exception. As the pandemic spread in March, parishes and dioceses across the United States closed their doors and suspended all in-person gatherings and events. While doing so was the right decision to help limit the spread and flatten the curve, it had two immediate impacts:
Millions of people lost an essential part of their lives in the suspension of weekly Mass/service
Parishes faced a financial crisis without the weekly collections
Many parishes across the country – primarily larger congregations – already had virtual footprints embedded in their communities, utilizing online and mobile giving, regularly updated websites, and social media platforms such as Facebook or YouTube. However, countless others were not so fortunate at the outbreak of the pandemic and had to make decisions and investments very quickly to adapt their parishes to the new normal for worship. Through an analysis conducted by CCS Fundraising of over 2,400 Catholic and Episcopal parishes across 29 dioceses in the Mid-Atlantic and the Southeast United States, it is clear to see these investments and adaptations are paying off both financially and spiritually. Parishes that are using this opportunity to expand their digital footprints and utilize a variety of communications strategies are realizing financial benefits that will last far beyond this pandemic crisis.
Given the uncertainty of how long the pandemic would keep churches closed to in-person worship, one of the first actions parishes took was to learn how to stream Masses/services. Our research has found that 66% of parishes are streaming their Masses/services via Facebook Live, YouTube, or Zoom. Beyond that, many are also virtually hosting weekly coffee hours, daily prayers, and ministry meetings. Doing so has allowed these parishes to continue gathering for the church. While worshippers still may not be physically going to church, the use of streaming technologies has allowed the sense of faith, hope, and community that comes from in-person weekly worship to continue.
Church closures and the absence of in-person gatherings also have complicated manners of communicating valuable information to parishioners. What once was an announcement at Masses/services or disseminated in print bulletins also had to be adapted to the new remote lifestyle. Questions then arise: What methods of communication will be most useful or accessible for our community? How do we maintain contact with as many parishioners as possible? How do we communicate with older parishioners who may not have the same technical capabilities for virtual methods?
While simple phone calls to check-in with families are often the most personal and successful, the above questions (among many others) show the need for a variety of methods. Our research finds that 89% of parishes use websites for communication, and 80% use Facebook or other social media platforms, yet only 46% are continuing to publish bulletins/newsletters in digital formats. It is important to note these data do not overlap, as parishes may only be utilizing one or two of the mentioned methods. Using multiple communication methods makes it easier to reach all parishioners and maintain the sense of community vital to parish life.
COVID-19 presented a significant financial crisis for most parishes, removing their primary method of collecting revenue (in-pew collections) indefinitely. Many did not have existing online or mobile giving platforms, leaving them to rely on families dropping off or mailing their donations to the office. The opportunity arose for most parishes to adapt and implement new systems into their communities. We have found that 54% of parishes have an online or mobile giving platform, allowing their families to donate from the comfort – and safety – of their home.
Communicating the importance of offertory is crucial, yet only 45% are doing so on their websites, 15% on Facebook, and 22% in their bulletins/newsletters. Parishioners need to know the importance of continuing their contributions to their churches, and this proves to be an area of opportunity based on our findings.
While the ideal scenario for a parish would be to include all methods listed above – and more – as part of their pandemic strategies, it is not necessary. However, what is necessary is that every parish adapts its digital environment and frequently communicates through a variety of methods. The chart below shows one diocese in the southeastern United States that followed these recommendations through CCS's SECURE program beginning on April 2nd. While parish finances lagged behind pre-pandemic levels, the immediate digital adaptations and communication strategies led to remarkable financial gains.
Figure 1: How rapid digital adaptations benefited one southeastern diocese financially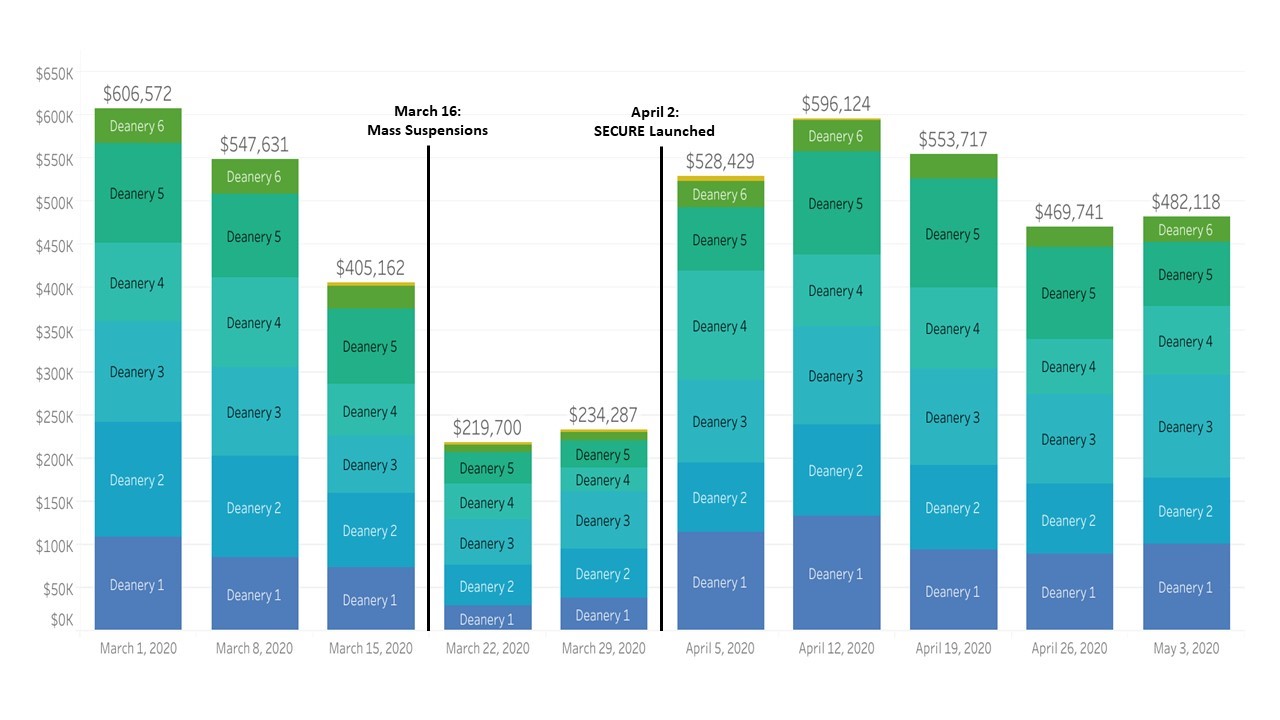 The COVID-19 pandemic has created an unprecedented need for change at parishes of all denominations and sizes across the country. Those who embrace this opportunity and adapt accordingly will benefit both their parish community in providing effective occasions for gathering remotely and the economic well-being of their parish to withstand the hardships caused by this pandemic. Those who put in these efforts now will see lasting benefits even beyond the pandemic crisis.
Proven Tips for Effective Adaptation:
Embrace change and try new ideas. These are uncertain times for all, and churches are feeling an impact. Some churches already had digital communities before the pandemic, while others did not. Use this time to learn new technologies and integrate them into your parish communities.
Use a variety of platforms and strategies for communication (e. websites, social media posts, video messages).
Regularly update the information provided on these platforms daily or weekly.
Be transparent about finances. Parishioners will not understand the economic hardships presented to churches by COVID-19 unless they are explicitly told via church websites/social media pages, newsletters, or even phone calls.
Know your parishioners and be creative. Every method discussed above has proven to be beneficial for parishes of both Catholic and Episcopal faiths in these regions. However, each parish has its own unique community, and some ideas may work better than others.
CCS Fundraising is a strategic fundraising consulting firm that partners with nonprofits for transformational change. Members of the CCS team are highly experienced and knowledgeable across sectors, disciplines, and regions. With offices throughout the United States and the world, our unique, customized approach provides each client with an embedded team member for the duration of the engagement. To access our full suite of perspectives, publications, and reports, visit our insights page. To learn more about CCS Fundraising's suite of services, click here.