Nonprofit organizations across all sizes and sectors share the same questions: how do we engage our donors, and what sort of outreach is appreciated and appropriate? With the COVID-19 crisis impacting the philanthropic landscape on a daily basis, the answer to that question has taken on new levels of depth and importance. The situation can appear paralyzing to even the most experienced fundraiser. However, the most important thing we have learned in our 70+ years of work in the philanthropic sector is the power of communication. Right now, your focus as fundraising professionals should be on consistent and highly personalized donor engagement strategies.
Guidance for Communication
While it is important to remain sensitive to the current environment, it is not an effective strategy to cease communications with donors altogether during a crisis. In fact, it is essential for you to ramp up communications to keep key stakeholders informed and engaged during this fast-changing time. As you prepare your communication plan, consider how different constituents may be affected and able to respond during this time. For example, your messaging should be customized for individuals vs. corporate vs. foundation funders, as well as for generation, gender, and ethnicity. But regardless of the constituency, keep the following four points in mind to form the foundation of your messaging:
Stay the Course: The donor engagement methods that are currently working for your organization remain unchanged despite communication channels (i.e. virtual meetings over in-person visits).
Make Adjustments: When needed, tweak your strategy based on feedback and new information.
Be Flexible: Given the present challenges, be willing to pivot slightly from your original plan.
Think Long-Term: Donor engagement has always been about building and maintaining lasting relationships.
Prioritizing Your Communication

As you plan your communication strategy, chart the stages of your prospect pipeline and accompany each stage with its own recommendations. You can begin by separating constituents into categories defined by their stage in the solicitation cycle: discovery, cultivate, brief, ask, and steward. In the case of a crisis, stewardship is your highest priority. Reverse that order and begin with donors who are in your stewardship category. For each of these stages, you will want to consider detailed answers for the following criteria:
Priority: Determine a timeline for communicating with them. Does outreach need to be immediate? Are there opportunities/need for ongoing touchpoints?
Definition: What are the specific criteria needed to place a given donor in each category?
Action Item: Is there a specific item you need to share at this time? Do you need to move a scheduled meeting to a virtual platform?
What to Consider: For each category, what are your goals for that donor, and how has the crisis affected those goals? What do they need to hear from you right now?
Key Points to Cover: How personal should the communication be? Do you need to thank them, make an ask, share how the crisis is affecting your organizations, show the development of a case for support?
Vehicles: What is the most appropriate method of communication? A personal call, a handwritten note, an email, or a video conference?
Lead: Who is the best person on your team to lead this communication?
Special Considerations
Among the many challenges we are all facing, there are two issues you will want to pay particular attention to in your communication.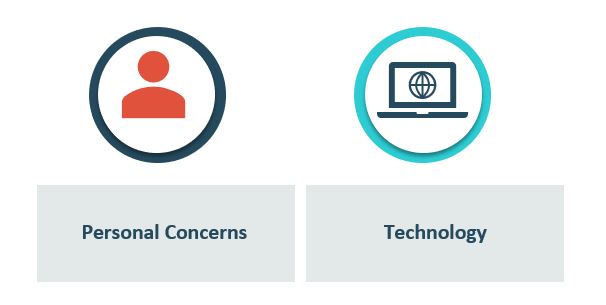 Personal concerns: Health and the economy are likely front of mind for all donors. Always begin conversations by checking in and inviting donors to share their experiences or concerns.
Technology: Be sure to run through virtual visits and test media ahead of schedule. Use the donor's preferred platform for check-in meetings with volunteers and organizational leadership to get everyone comfortable with the functionality and features. Click here for more information on how to run effective virtual donor meetings.
Recommended Strategies
1) Lead with well wishes and care for the safety of the individual. Acknowledge that this is an unprecedented time and many are experiencing disruption to their routines and plans.
Sample Messaging: It is our sincere hope that you and your family are well, safe, and able to continue as much of your normal routine as possible in this uncertain time.
2) Provide a high-level summary of the organization's response plan. Focus particularly on the expertise the organization provides and how it is helping its constituents and community in this time of upheaval.
Sample Messaging: As a close friend of our organization, we want to share with you…
Consider sharing your organization's crisis response fund, useful resources, or opportunities to get involved.
Do not provide medical advice. Aim to share resources that are nonpartisan in nature.
3) Circle back to the organization's mission and share current needs.
Sample Messaging: Amidst the uncertainty of this moment, one thing remains clear: the need for our services within the community has never been greater.
4) Close with a sincere thank you.
Sample Messaging: As a supporter of our organization, you empower our ability to respond to this crisis, continue services to our constituents, and advance our mission. Thank you.
5) Additional Engagement Ideas
Given work-from-home and shelter-in-place mandates in some states and an increased need to connect and engage with one another, now is a good time to think about creative ways to communicate with your donors.
Create "in-person" online moments. Develop virtual visit structure and speaking notes. Make the visit tangible by presenting the host's screen to share photos, charts, and digital booklets/case statements to bring the mission to life.
Close the social distance. Consider hosting a cultivation "social hour" led by organization leadership, campaign chair, and any subject matter experts (physician, teacher, curator) at the organization.
Instill Confidence. Highlight recent examples of generosity. Inspire others with a testimonial from a donor who stepped up in this time of crisis.
Conclusion
Remember that throughout this crisis, your highest priority should be communicating with your donors. Through past crises, donors continued to give to organizations they felt connected to, so it is imperative that you nurture your relationships. Charitable organizations can persevere through challenging times with flexibility, creativity, and resolve.
During this challenging time, we are continuing to offer our perspectives and lessons learned from over seven decades of nonprofit advisory leadership. Click here to access our Strategies During COVID-19 page. Here you will find resources that provide best practices and optimal strategies to help your organization build a path through this crisis and beyond.
CCS Fundraising is a strategic fundraising consulting firm that partners with nonprofits for transformational change. Members of the CCS team are highly experienced and knowledgeable across sectors, disciplines, and regions. With offices throughout the United States and the world, our unique, customized approach provides each client with an embedded team member for the duration of the engagement. To access our full suite of perspectives, publications, and reports, visit our insights page. To learn more about CCS Fundraising's suite of services, click here.