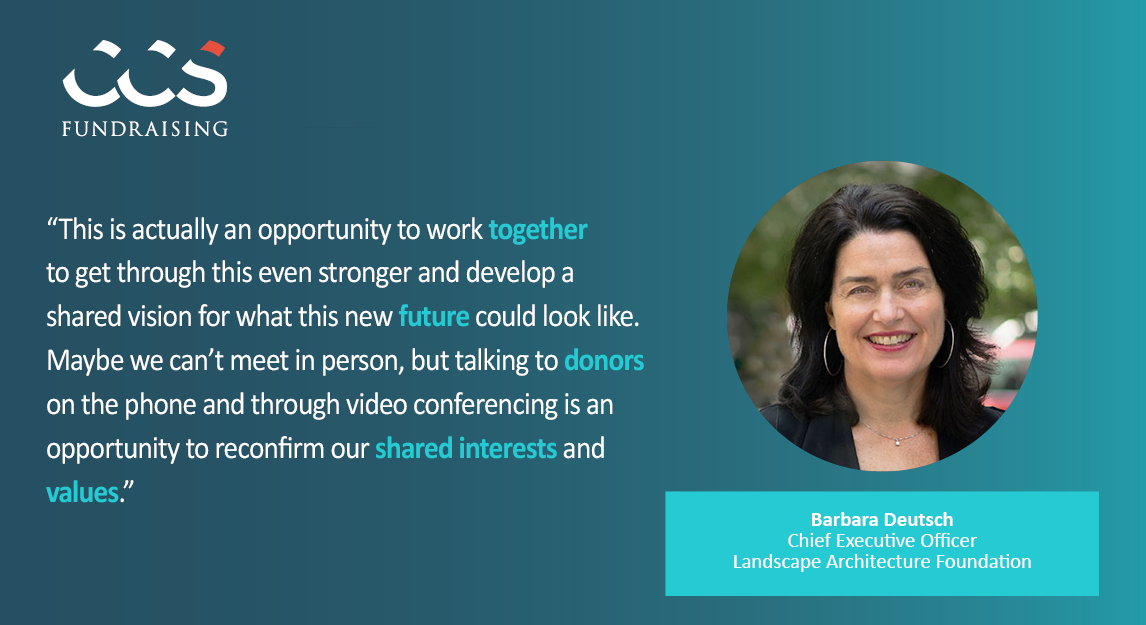 As nonprofits continue to find innovative ways to navigate the COVID-19 pandemic—especially when it comes to donor engagement—many organizations are drawing from lessons learned from past crises.
Barbara Deutsch, CEO of Landscape Architecture Foundation (LAF) helped the organization continue fundraising initiatives through the 2008 recession which included a successful capital campaign bolstered by a robust donor communication strategy. In this new video, Luke Driscoll, Managing Director at CCS Fundraising chats with Barbara on how she is applying similar principles during the COVID-19 pandemic and how LAF is preparing for the uncertain months ahead.
This video is the first installment of a mini webinar series, 5 Leaders | 5 Questions, where leaders at CCS Fundraising sit down with executives of leading nonprofits to discuss and reflect on fundraising in challenging times. In this series, the firm's experts will explore each executive's experience navigating fundraising in times of crisis including the aftermath of 9/11, the Great Recession, natural disasters, as well as what they are seeing and doing amid today's pandemic.
For more up-to-date information, visit ccsfundraising.com
To access our full suite of perspectives, publications, and reports, visit our insights page. To learn more about CCS Fundraising's suite of services, click here.