COVID-19 is changing the way development professionals are communicating, so having a robust digital marketing strategy has never been more important. Digital is an ideal way to distribute communications—especially crisis messaging—both quickly and cost-effectively, while keeping your audience actively engaged with your organization. Plus, with information ever-changing during the crisis, the digital realm allows you to pivot fast and adjust your messaging in real-time.
To provide you with best practices for executing a successful digital plan during this uncertain time, we partnered with Beth Hatcher, Founder and CEO of Beth Interactive, a digital marketing and e-fundraising agency in Chicago that specializes in digital strategies and e-philanthropy for nonprofit organizations.
Solidify the Call-to-Action
The first question to consider as you think about your crisis communications is: What do you want your recipients to do? Do you want them to make a gift? Become a member? Provide feedback? Share a story? Identify your goal, and then tailor your communications to accomplish it. Whether you're sending an email to donors, adding new messaging to your website, or sharing content on social media during this crisis, you should always have a call-to-action in mind.
Organizations that overwhelm their audience with multiple asks or vague communications are likely to fall behind. Deciding on a priority ask will help you message with directness and clarity. It will also help you determine whether or not your messaging is resonating. For example, if your email or website asks donors to provide feedback through a survey, and a large percentage of them do, you have successfully engaged them in the way you hoped.
Engage with Purpose
Because so many of us are isolated right now, there is a clear longing for connection. But the members of your community are most likely inundated with messages from many different organizations trying to reach out during this time. So, it's important to ask: How can you engage your donors and support your community most meaningfully? Think about how you can foster these relationships in a substantial way that rises above the clutter.
A first step to answering this question is to empathize with your constituency. Let's say your institution is a museum that is currently closed to the public. What would be valuable to a museum member during this time? Would they like access to virtual tours of exhibits? Or would they be more interested in additional member benefits when the museum opens again? Putting yourself in their shoes will help you craft messaging that shows you are keeping their interests in mind. Asking for feedback from your users is another great way to keep them engaged and involved.
Utilize Your Channels
All your different channels should be activated to cast the widest net possible. If you already have stewardship and communications channels in place—such as email, website, and social media—now is the time to double down on these avenues. If you don't have a good digital infrastructure in place, invest some time into getting up to speed so you don't fall behind. Regardless of where you are with your digital presence today, here are best practices for how to improve your outreach.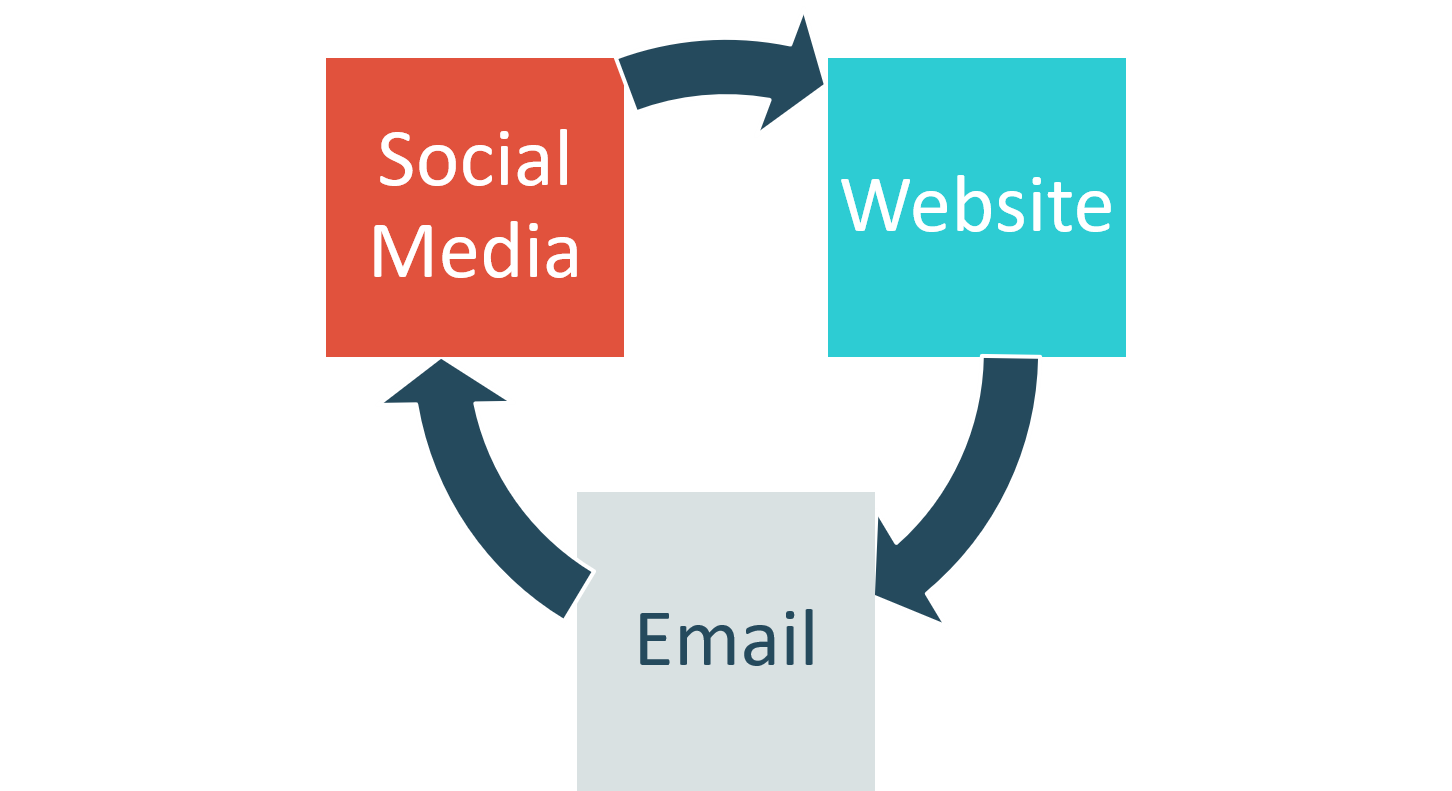 1) Website
In a previous post, we shared three simple ways to improve your website without spending too much time and money. Since your website can continually change, think of it as the best home for providing up-to-date and helpful information.
Key Recommendations:
Create a landing page for content during the COVID-19 crisis: If time and funds allow, build a simple home for all of your crisis statements, blog posts, videos and more. You can also direct attention to this page by adding a banner, pop-up, or lightbox across your website.
Be straightforward and direct: The layout of your landing page should be clear and simple:
Address and sympathize with your audience's concerns
Describe your plan of action and what you are already doing
Include information about ways your audience can help immediately
Encourage them to make a gift, and make it easy to do so

Add a call-out to your homepage and/or giving page: Your crisis messaging should be front and center, so your audience doesn't have to search to find important information.
Consider a sign-up form: Giving your audience an opportunity to receive real-time updates is a great way for them to stay connected, and it's a useful tool for acquiring new emails for your database.
2) Email Marketing
While it's important to have a solid website presence, you have to get people to your website. Email is an excellent tool to deliver timely information, push overall engagement and drive giving online.
Key Recommendations
Use clean design, bold visuals, and honest messaging: Your emails should get right to the heart of the situation, not lose the reader in long scrolls or dense text. Visuals can go a long way in telling your story, so think about what could convey your current situation while still showing hope and forward progress.
Drive your call-to-action: Use designed buttons (vs. simple hyperlinked text) for greater click-through.
Leverage personalization: For example, lead with the recipient's first name, when possible.
Include faces: Sign the email from a recognizable person in your organization or community, and include their portrait in the signature—it really helps people connect.
Be open to adapting and trying new things: Pay close attention to which messages are resonating, and which ones aren't. One way to test this is to use two different subject lines with your audience to see which one gets a higher open rate.
Measure and learn: Look at the results of your emails. Which one had the highest open and click-through rates? Which images did your users click on most? Use this analysis to drive improvements.
Know your audience: It is important to have a clear understanding of who you are reaching out to and why. Take this time to ensure that your database is accurate. If you are sending an email to your entire database, make sure the information would be useful to all members of your list. If you have a more specific ask for a particular subset, be sure to filter before you send.
3) Social Media
Keeping your social media presence active during a crisis shows that your organization is present and engaged. Use these channels to connect with your existing audience and rally new people around your cause.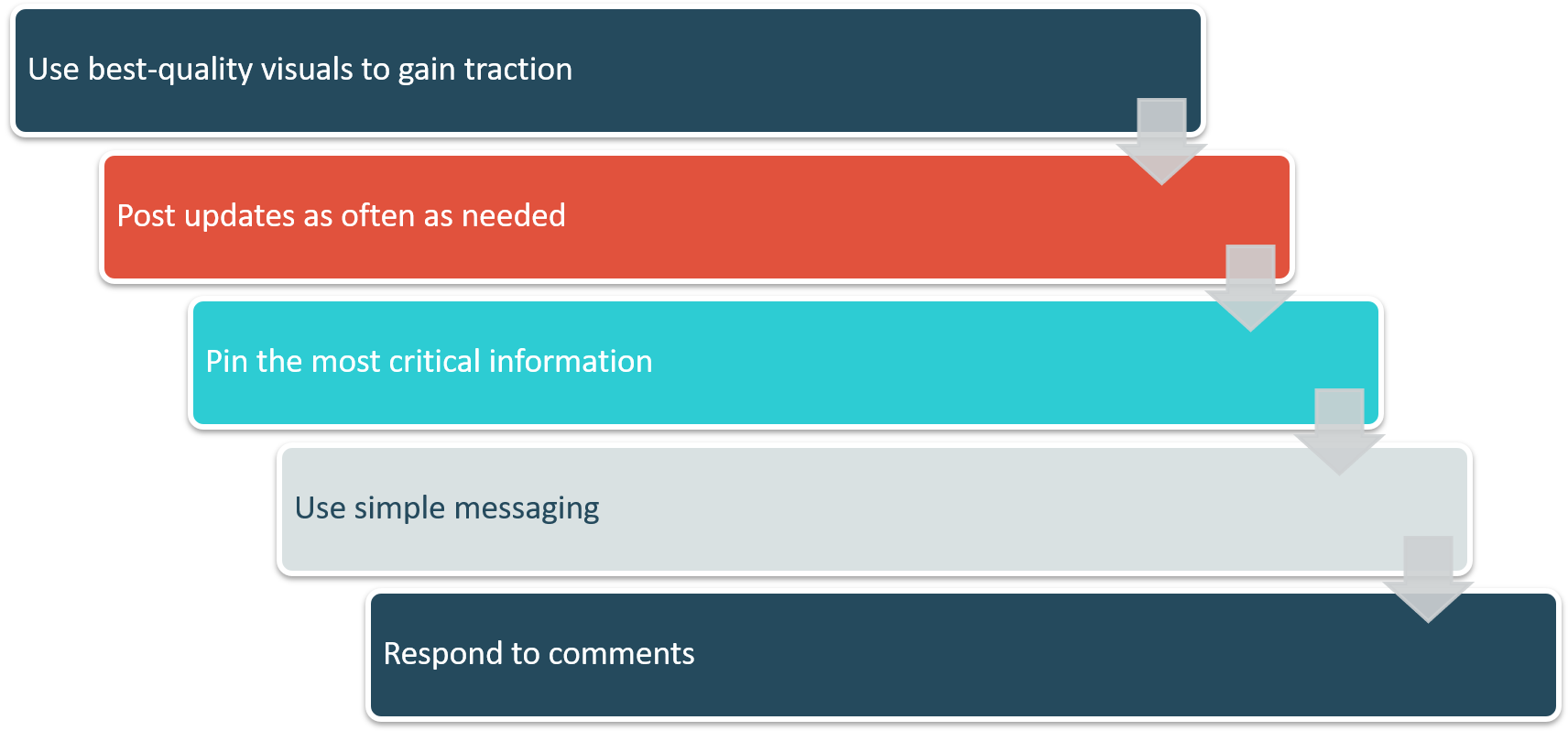 Key Recommendations:
Use best-quality visuals to gain traction: Visuals make things easy to spot while scrolling through busy social media newsfeeds.
Post updates as often as needed: Be consistent and don't allow long stretches of time to go by without providing useful content to your audience.
Pin the most critical information: Locking down your most valuable messaging on the top of your Facebook and Twitter profiles will allow this information to remain easy to access.
Use simple messaging: Just like your website and email strategies, be clear, concise, and direct about your call-to-action.
Respond to comments: Thank users regularly for their support, and be sure to respond to questions—as well as negative feedback. It's paramount to be a part of your organization's conversation on social media (otherwise, the conversation will happen without your input!).
It is important to remember—especially now—that your digital strategy can always change down the road. Try to think of this initial strategy in 15-, 30-, and 60-day increments. Consider your immediate needs and reinforce these messages across channels. Finally, remember to stay on message and on brand throughout. Stay true to your mission by sticking to the principles and behaviors that have already propelled your organization into prominence.
During this challenging time, we are continuing to offer our perspectives and lessons learned from over seven decades of nonprofit advisory leadership. Click here to access our Strategies During COVID-19 page. Here you will find resources that provide best practices and optimal strategies to help your organization build a path through this crisis and beyond.
CCS Fundraising is a strategic fundraising consulting firm that partners with nonprofits for transformational change. Members of the CCS team are highly experienced and knowledgeable across sectors, disciplines, and regions. With offices throughout the United States and the world, our unique, customized approach provides each client with an embedded team member for the duration of the engagement. To access our full suite of perspectives, publications, and reports, visit our insights page. To learn more about CCS Fundraising's suite of services, click here.
Beth Interactive is a digital marketing and fundraising agency in Chicago specializing in online strategy and consultation, e-fundraising, email marketing, SEO, and website design. The team partners closely with healthcare foundations and nonprofits nationwide to engage donors and increase giving through intelligent strategies, thoughtful execution, and full-service support. Learn more at bethinteractive.com.