More often than not, nonprofits have untapped potential in their donor databases. There are likely lower-level donors in your CRM that—if identified and properly cultivated—can be tomorrow's big-ticket givers. So how do you find them?
Just as for-profit businesses often use predictive analytics to grow revenue, charities can use predictive analytics to improve fundraising results. CCS uses predictive modeling with our nonprofit clients to identify new major gift prospects efficiently, methodically, and accurately. With this technique, organizations can pinpoint the best prospects for cultivation, including ones currently unknown to or unmanaged by major gift officers.
What Is Predictive Modeling and How Can It Be Used to Find Donor Potential?
Predictive modeling uses information about the past to predict future outcomes. In the context of major gifts fundraising, predictive modeling can forecast which donors are likely to give a large gift to your organization.
CCS has developed a multi-step process using this technique to assess the potential contained in a donor database. By the end of this process, an organization will have a list of the most promising new major gift prospects who are already in the donor database.

Step 1: Predictive Modeling
The process starts with building a suite of predictive models. These models seek to predict future donor behavior based on past tendencies, interests, and demographics.
In essence, a predictive model describes who your good donors are in statistical terms. Using this information, the model finds constituents who look like those good donors but aren't good donors yet. This statistical characterization is actually a formula that is used to give each constituent in the database a numerical score, which rates the quality of the prospect.
The factors that go into this formula vary widely from organization to organization. The models that CCS builds for nonprofits use a variety of data elements in the organization's donor database. These attributes may include contact information, giving history, event data, volunteer history, and other data fields that are unique to each organization.
Step 2: Wealth Screen the Top Model Scorers
The predictive model scores tell us which donors have an affinity for your nonprofit. Constituents that scored well are interested in your organization, and they're likely to give a gift to you. But it won't tell us their financial ability to make a large donation.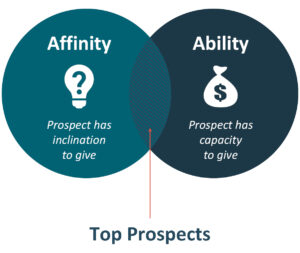 For this reason, the next step in the process is to conduct wealth screening research on the constituents who scored well in modeling. Using external wealth screening vendors, we can gain an estimate of how much money the constituent could contribute to charity. From there, we can layer the wealth screening and modeling scores to isolate prospects who lie in the sweet spot between affinity and ability to give.
Step 3: Remove the Assigned Constituents and Those Above a Certain Age
Since the goal of this process is to identify new major gift prospects, we will remove constituents who have already been assigned to a major gift officer's portfolio. We'll also filter for age to ensure a solid list of prospects who are in a stage of life where it makes sense to be cultivated for a major gift.
Step 4: Use Model Scores, Wealth Screening Data, and Recent Giving to Generate the Final List
We have found that small, actionable lists of compelling new prospects are the most helpful to development departments. Applying additional filters at the end of our exercise—such as adjusting the cut-off points for model scores, gift capacity, and recent giving—allows for a manageable list.
Why Is It Valuable to Find New Major Gift Prospects with Predictive Modeling?
At the end of this process, your fundraising team will gain a list of high-quality prospects that are not currently being managed by a major gift officer. From there, fundraisers can cultivate relationships with these donors and secure new transformative gifts.
Now more than ever, many development offices need to do more with fewer resources. It is vital to ensure fundraising staff are putting time and effort into vetting and assigning prospects with the highest potential for making a significant gift. Predictive modeling is an excellent tool for focusing your attention on new prospects who are statistically the most likely to give a major gift to your organization specifically.
CCS has seen the tremendous return on investment of predictive modeling borne out for our clients. In an analysis of CCS's past predictive modeling clients, the median organization's Top Prioritized Prospects—that group of best prospects who were not in a gift officer portfolio, but CCS recommended be added to one—went on to give seven times the amount that all other donors did.
How Else Can Predictive Modeling Be Used in Fundraising?
Predictive modeling is a flexible technique that can be used to predict a wide variety of philanthropic behaviors. It can support development strategies and objectives such as:
Retaining donors who gave in response to crises, such as COVID-19, over the long-term
Strategizing engagement and outreach for planned giving prospects
Developing acquisition, retention, and segmentation strategies for annual giving
Building a pipeline of young alumni most likely to be future major donors
Prioritizing grateful patient outreach
Optimizing major gift officer portfolios not only by adding new prospects, but also by identifying prospects to remove from portfolios
CCS has a dedicated Analytics team that helps nonprofits across the world leverage techniques like predictive modeling. Our in-house Analytics experts use a variety of statistical tools to develop customized, creative, and actionable fundraising strategies for our clients. Visit our Services page for more details on our Analytics offerings or contact us today to start a conversation.