The COVID-19 pandemic has made in-person fundraising events – once fundamentals of the healthcare fundraising playbook – now feel as antiquated as typewriters and VCRs. At least for now, home offices and laptop screens have largely displaced America's boardrooms and ballrooms. As a result, many nonprofits that relied on in-person events and fundraising strategies – healthcare institutions and hospitals for example – had a difficult choice to make:  
W

holesale cancellation of these plans 

until 

in-person gathering was once again safe

,

 or 

A

 complete

 and creative reimagination of what was on

ce

 in-person 

activities 

for 

our new 

cyber context

. 

 
Luckily for us and for the sector, many organizations opted for the latter. Thus, as effective vaccines beckon herd immunity and a potential return to some sort of pre-pandemic "normal", we now know that virtual fundraising events – large and small – can, in fact, garner massive quantities of philanthropic support, stabilizing the finances of organizations still weathering crisis. For the most forward-thinking nonprofits, virtual and hybrid events are here to stay, as additional arrows in the fundraising quiver that will empower more effective, efficient donor engagement, even long after the world reemerges from pandemic isolation.  
Part of the beauty of virtual events is that we can leverage the traditional marketing funnel to segment donors into tiers, creating customized experiences that appeal to each segment and make efficient use of development resources. The top of the funnel catches all individuals in your organization's community, encompassing those who may be interested in a large–scale event. As we move down the funnel, the addressable population becomes increasingly exclusive from past donors and stakeholders, to major donors, then top donors.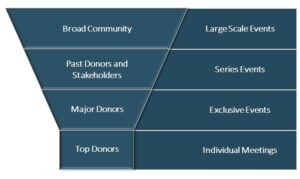 One healthcare organization that CCS works with has found great success from this multi-tiered approach to virtual fundraising events this year. Read on to learn more about each event type and our top takeaways to implement at your nonprofit.  
Large-Scale Event
s 
The hospital typically hosts an annual run/walk event that attracts more than 10,000 participants and raises money for cancer research. This year, the event was reimagined in a "virtual edition" and the team introduced a new personal twist to continue building community; teams were encouraged to create custom mileage challenges that were meaningful to them (for example, one family set its goal at 1,563 miles in honor of the number of days since their daughter's bone marrow transplant). Teams logged their miles and participated in weekly fundraising challenges throughout the month of September and celebrated with live-streamed opening and closing ceremonies. Individuals from 13 different countries joined and the event raised a record-breaking $1.7 million. 
Our Takeaways: 
Don't limit your event to a single geographic location

 

Consider multiple sessions for the big event

 

Develop opportunities for attendees to personalize the experience

 
The hospital holds a popular luncheon and fashion show in May at a large event venue. This year a new concept for the event was developed: the fashion show featured hospital workers who were on the frontline of COVID-19 response as models. Filmed on the hospital campus, the event assumed a new hybrid form: hundreds watched online, while others attended an in-person showing, which was hosted drive-in movie style in a parking lot of a hospital outpatient facility, complete with snack trays delivered to each car. The event enabled the hospital to share the story of its COVID-19 response in an engaging way and showcase different parts of its campus. This event raised $400,000 for COVID-19 response. 
Our Takeaways: 
Tell the story of your organizational heroes

 
Consider highlighting your 

in-person building or center

 to remind donors of your 

ongoing

 operations

, even if these operations have been out of sight

 

Leverage the registration list as an opportunity to 

expand 

your database, refresh donor data, and perform data analysis on your constituents

 

Going "hybrid" will expand your reach, capturing donors who might not have been willing or able to attend in-person

 
Series Event
s
To create a meaningful touchpoint for hospital friends and donors, the hospital organized a new quarterly lecture series featuring its research and clinical leaders involved with COVID-19 testing, vaccination trials, and pandemic response. More than 300 donors, prospects, and friends of the hospital signed on for each of these calls and were encouraged to ask questions of the presenters. Development followed up personally on any questions that weren't answered live.  
Our Takeaways: 
Identify your area of expertise and share it

 

Develop an event with a regular cadence

 

Follow up with answers for attendees

 
Exclusive Event
s
In lieu of an in-person salon-style dinner to cultivate major gifts for a capital project, the hospital hosted a "virtual dinner" for five carefully-curated major gift couples. This event featured a patient-family speaker, physician speakers, and a pre-recorded video of construction and the cutting-edge technology that would be featured in the new facility. A high-end, catered, four-course dinner box, bottle of wine, menu, and event program, along with a hand-written note from the volunteer who was serving as "hostess," was delivered to each couple's home for the dinner. This event raised $4 million for the hospital's capital project. 
Our Takeaways: 
Build your program around the message you want to deliver

 

Carefully curate your guest list and

 volunteer leadership

 

Invest in a tailored and themed gift

 
Individual
Meeting
s
The hospital rolled out a "virtual hard hat" private tour of a new facility being built to specific high-potential donors. This cyber-tour leveraged live video streaming from the construction site and pre-recorded personalized messages from hospital leaders, patient families, and the construction team to the donor. Hard hats branded with the hospital logo were sent to tour attendees prior to their tour experience.  
Our Takeaways:
Be sure to see what your donor is comfortable with around social distancing protocol

Show your donor their impact by touring a space or interacting with a program

Book end your experience with a one-on-one conversation and follow-up
As you develop your post-pandemic event plans, we hope that you can use these takeaways to strategically continue virtual and hybrid events at your nonprofit.