Today, many nonprofit organizations round out their annual and major gift efforts with programs focused on planned giving. Implementing a planned giving program can be an effective way to diversify revenue streams and move donors along a continuum of commitment to your organization similar to the one shown below.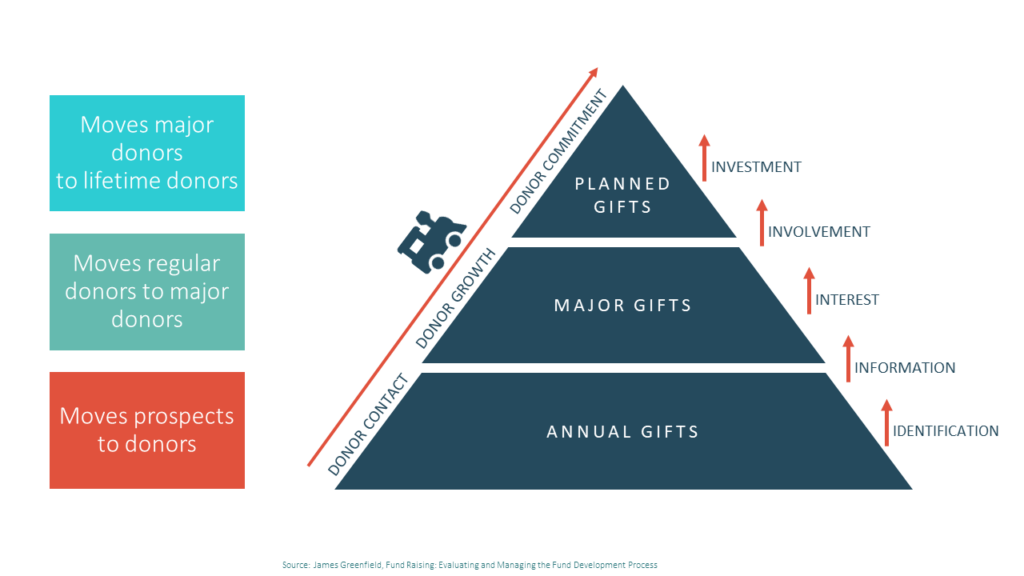 Recently, CCS partnered with Holocaust Museum LA (HMLA) to design a planned giving program that will be rolled out to a select cross-section of donors in the near future. HMLA felt it both important and relevant to increase emphasis on planned giving, particularly because the concept of honoring legacy is a central theme in their mission to "commemorate those who perished, honor those who survived, educate about the Holocaust, and inspire a more dignified and humane world." Holocaust Museum LA CEO, Beth Kean, said, "With an aging community of survivors, we had long wanted to create a proactive planned giving program to offer families opportunities to make an enduring, meaningful gift that will impact future generations. We just didn't know where to get started. After CCS helped us launch a successful capital campaign, we knew their team of strategic fundraising experts would be the perfect partner to guide us on a legacy program."
Many of the volunteers at the heart of the Museum's programming are Holocaust survivors now in their 90's. Others have parents, grandparents, or other family members who escaped or perished during the Holocaust. Couple this history with statistics on the alarming increase of hate crimes and extremism in our society today, and the need for HMLA's work to endure is evident. A successful planned giving program provides a unique opportunity to quickly scale an organization's endowment as well as meet more immediate cash needs. At HMLA, such a program will help ensure that the Museum's vital work continues in perpetuity.
In order to develop a planned giving program tailored to the Museum, CCS conducted a gift planning assessment and first sought to understand the attitudes about and proficiency with planned giving that exist within HMLA's universe of donors. HMLA's unique legacy-focused culture combined with the Jewish concepts of tzedakah and tikkun olam – moral obligation to give charitably and to repair the world – suggested that such a program would flourish at the Museum; however, it was important to see this intuition confirmed by data. Thus, we worked with HMLA to isolate a strong set of planned giving prospects and invited them to participate in a survey that gathered qualitative and quantitative data related to donor satisfaction, engagement, and interest in planned giving. What we learned about this community was encouraging and provided us with the basis for developing the materials, events, and messaging that now compose HMLA's planned giving program.
The program was designed to start small and eventually grow into a more robust operation as HMLA expands its staff and expertise with various gift planning vehicles. Initial focus was placed on developing the following materials:
Prospect matrix – This database grew out of the planned giving survey, wealth screening analysis, and other data analytics work. A significant list of potential planned giving donors was created and then prioritized for cultivation. Strategic outreach activities were designed to correspond with various prospect groups. For example, a follow-up email was designed to announce the planned giving society, and multiple versions were created with text befitting survey participants, current planned giving donors, or those in the survivor community.
Preliminary brochure – A brochure featuring donor testimonials was designed for digital and print use to introduce the planned giving program. The brochure includes a QR code and website URL that enable donors to sign up to learn more about the program. A separate list of planned giving vehicles and their benefits was developed to accompany the physical brochure and serve as a donor takeaway at meetings and events.
Recognition and benefits – CCS worked with the Museum team to conceptualize Enduring Truth, a legacy society for planned giving donors. Benefits of membership include special listings and the chance to participate in legacy society luncheons, planned giving seminars, and planned giving salon events. CCS also reviewed and updated HMLA's gift acceptance policies to adhere to current standards and support a greater organizational focus on planned giving.
Planning calendar – An annual calendar of planned giving communications and events was created to ensure that donors at various stages in the pipeline are being cultivated and stewarded at an optimal cadence.
Branding and messaging development – A concept note for a digital planned giving newsletter was developed to welcome new legacy donors, celebrate milestones, provide advice from featured financial experts, and spotlight events and exhibits at the Museum.
List of experts – A list of financial planners, CPAs, estate attorneys, and other experts was compiled. During the course of the project, many of the individuals listed were engaged to review materials and plans and provide feedback to the Museum. In the future, these individuals may be featured in the newsletter or invited to speak at seminars and other planned giving-focused events.
Creating the simple tools above as well as the talking points and communications plan to introduce them to potential donors were foundational steps in crafting what will undoubtedly be a strong planned giving program at Holocaust Museum LA. CCS looks forward to our continued partnership with HMLA as they embark on implementing and growing their planned giving program for the benefit of their donors and mission.
If you have questions about exploring gift planning work at your organization, please contact info@ccsfundraising.com.