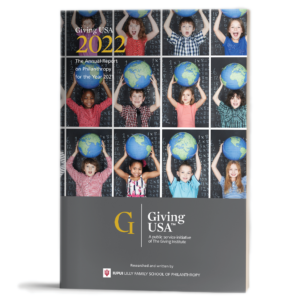 In this session, we hear from Dr. Una Osili, Associate Dean for Research and International Programs at the IU Lilly Family School of Philanthropy, who leads the research and production of Giving USA, a publication of the Giving USA Foundation. Dr. Osili presents trends from the latest report, which features a look back at charitable giving in 2021.
Following the presentation, panelists dive into a discussion on the significance and implications of this year's numbers.
More Insights
August 29th, 2023
Featuring essential philanthropic research from all major sources in the industry, this exclusive report examines key themes in American philanthropy and the latest data on giving by US individuals, foundations, and corporations.
Wednesday, October 12th, 2022
CCS fostered discussion about the philanthropic trends revealed by the Giving USA 2022 report at a number of events.
Want to start a conversation?
We'd love to help you plan your next chapter!