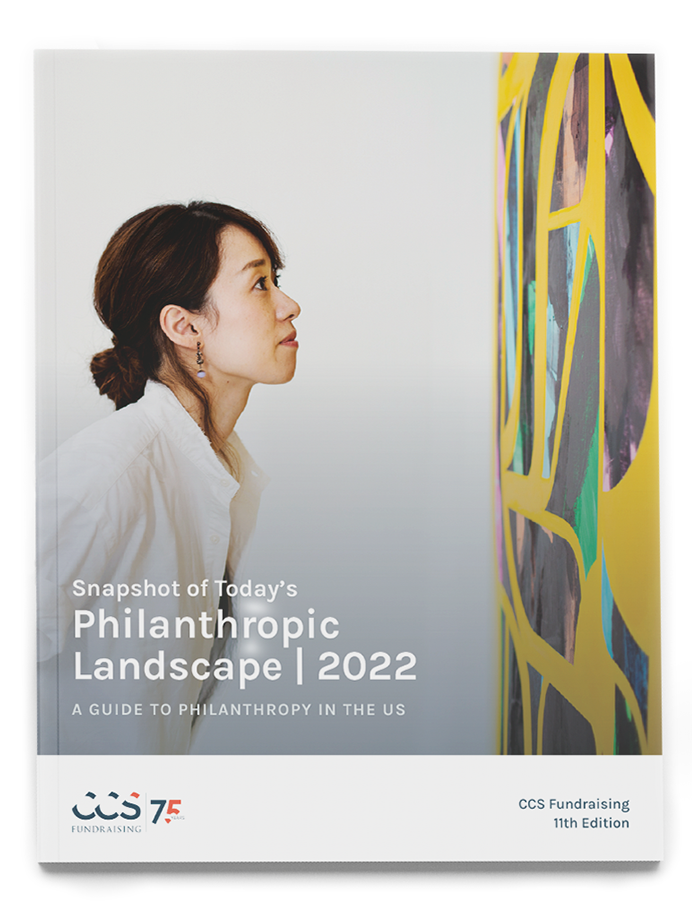 CCS Fundraising is thrilled to share the eleventh edition Snapshot of Today's Philanthropic Landscape. This report compiles and contextualizes research from across the field of philanthropy to help US-based nonprofits wade through the available data and create informed fundraising strategies.
"In this year's report, we assess key areas that nonprofit leaders and fundraisers will want to monitor as part of planning and strategy," said Aashika Patel, CCS Senior Vice President and Report Co-Chair. "Particularly, we offer greater insight on gift planning, high net worth giving, and emerging digital fundraising trends that are becoming more prominent in the philanthropic ecosystem."
Even without accounting for the spike in giving in 2020, Americans are increasingly generous when we assess multi-year trends. Overall, charitable giving increased by 7.1% from 2019 to 2021. In June 2022, Giving USA released their estimates that US charitable giving remained relatively flat from 2020 to 2021, settling at $484.85 billion.
Tom Kissane, CCS Vice Chairman and Report Co-Chair, remarked on important considerations for fundraising professionals. "As fundraising practitioners, we remain inspired and grateful for the unprecedented generosity of Americans, our foundation partners, and corporate supporters. Despite an extremely challenging period, nonprofits sustained their extraordinary missions and, in many ways, advanced compelling aspirations. We applaud our clients, partners, development colleagues, and nonprofit leaders for the tremendous resilience and determination to strengthen their organizations to fulfill the promise of their respective missions."
The report discusses essential findings from across the field of philanthropic research, including: