The last few years have undeniably changed the way people work. Remote work flexibility has advanced from a desirable benefit to an expectation, and returning to the traditional office environment continues to be debated. How does fundraising evolve as a relationship-based business to meet stakeholder needs, including employees, volunteers and donors? How do we best respond to the continuing need for a thriving nonprofit culture to drive performance versus the need to use technology to facilitate work and allow for enhanced work-life balance for employees?
The answer, we believe, lies in finding the right intersection of leadership, culture, and people at your nonprofit.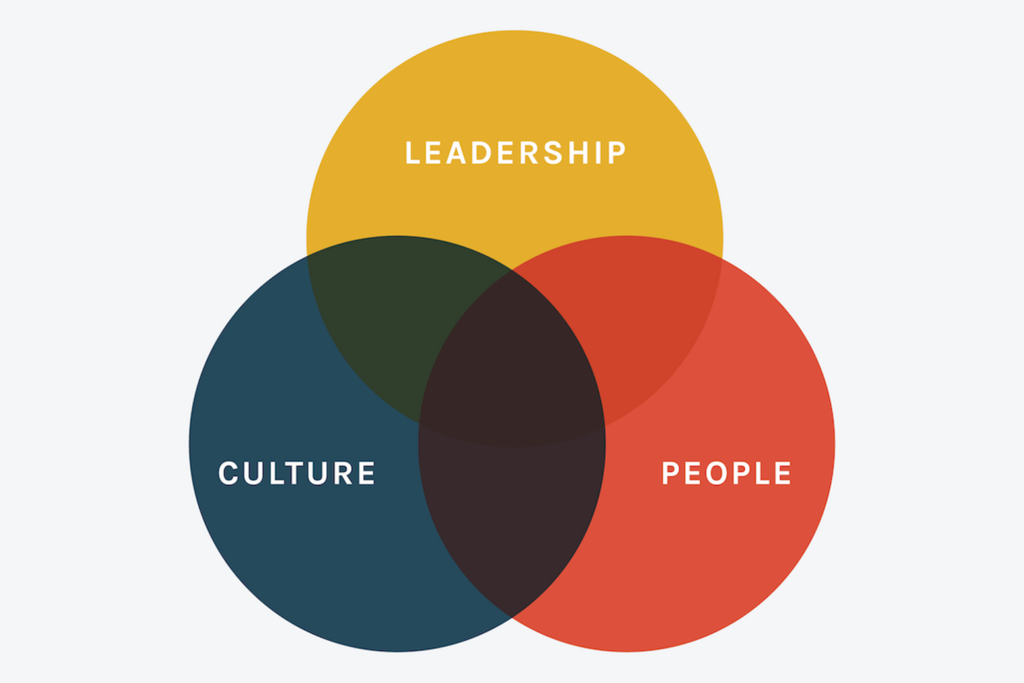 Ensure Leadership Sets the (Right) Tone
Thriving in today's organizational environment requires thoughtful and deliberate leadership, generally understood to directly correlate to organizational performance. Poor leaders often leave money on the table, while effective leaders know how to make a profit and keep the needs of their key stakeholders at the forefront of their decision-making.
The most extraordinary leaders help establish norms for how individuals carry out their organization's work, align that work to mission, and build an organizational culture that meets the needs of all stakeholders.
Acknowledge and Understand Culture Complexities
Culture defines what an organization encourages, discourages, accepts, or rejects and is anchored in unspoken behaviors, mindsets, and social patterns. While leadership must directionally set an effective culture, organizations must simultaneously recognize culture's multi-faceted and multi-layered intricacies.
Factors That Anchor and Alter an Organization's Cultural Trajectory
Mission/services: An independent school may have a particular organizational culture based on its history; a faith-based institution will have a specific culture based on its denominational beliefs, etc. (CCS tailors our Catholic services for this very reason).
Nonprofit sector: A hospital with significant earned income (e.g., clinical care) will likely have a different set of cultural norms than a human services organization largely or entirely dependent on philanthropic support and volunteer contributions.
Organizational size: A large organization, like a University, will likely have a different culture than a five-person nonprofit.
Geography: An organization on the West Coast will have a different set of community norms than one in the South or the Northeast.
Development infrastructure: A hospital foundation may have its own culture separate from its supported hospital; a centralized university advancement department may have one culture, while a decentralized one may have many separate cultures; a federated networked nonprofit may have a different set of cultures through each of its local chapters, etc.
Leadership is responsible for recognizing and understanding the various external and internal characteristics influencing its organizational culture and reconciling that with its vision for a cultural ideal state.
Build a Great Team by Putting People First
As important as leadership and planning are to organizational culture, change is fully co-dependent on adoption and implementation by the people working within the culture. Each team member can add to, complement, or detract from leadership's cultural planning and intentions. The people themselves must buy in to the cultural design, execution, and accountability to enable the strongest likelihood of success for collective cultural change.
Unfortunately, the people needed to create a thriving culture are often the same ones embattled with troubling workplace dynamics.
Nearly half of fundraisers will switch jobs within the next two years according to research published in 2022.
Almost a third of fundraisers will leave the fundraising field altogether according to survey data shared by the Chronicle of Philanthropy in 2019.
Workers are feeling burned out.
The vast majority feel tremendous pressure to succeed in their role.
People do not use their vacation time or they work while on vacation.
More than half feel unappreciated for their work.
Workers are hesitant to discuss personal challenges with supervisors.
Remote Work Can Lead to Burnout
Workers and managers often view remote work as the modern solution to these challenges, and most job seekers now look for remote-only jobs. Yet this flexibility often creates additional unanticipated challenges requiring attention. Most remote workers state that the flexibility results in longer hours and burnout, with no clear start or finish to their workday. Putting your people first will address these issues, add to your culture, and aid recruitment and retention efforts.
Focus on Performance AND People
Fundraising outcomes are ultimately the most important development performance measurements. An organization with the best leadership and culture cannot maintain its culture or keep its people if it cannot raise money. A similar outcome will befall an organization that only focuses on fundraising performance at the expense of its people. An organization that deploys an intentional leadership-driven cultural strategy with a people-first approach is most likely to see success in today's workplace environment. St. Joseph Catholic Church, for example, was able to raise its sights, engage prospects, and secure major gifts when CCS leveraged their strong clergy leadership for fundraising.
Becoming people-first requires setting and codifying expectations of leaders and managers, and the remainder of the team, concerning work logistics, core behaviors, and professional growth, among other things.
Steps to Build a THRIVING NONPROFIT Culture
Work logistics must be defined and consistently applied to adapt to the organization's particular culture and its team members.
Consider the Optimal Environment for Your Team's Work
Thriving organizations often utilize a hybrid approach (e.g., 3 days in the office and 2 days remote). If you adopt this approach, consider how best to address mentorship and professional development.
Be Flexible
Recognize that your team members have lives outside of work and offer flexibility for personal circumstances. Thriving cultures recognize their people's personal lives, offering support and flexibility in times of personal need.
Bring Your Team Together Occasionally
Consider some mandatory in-person meetings. Thriving cultures often require in-person meetings for team meetings, one-on-one check-ins with a supervisor, or team retreats. To avoid burnout, consider small steps, such as confining email to certain hours of the day, limiting evening communication and work when feasible, and considering email or meeting-free afternoons. An employee's greatest barrier to effectively contributing to cultural development is often the unconstrained measures leadership creates through specific actions or standards.
Provide the Resources Necessary for Success
Invest in the tools needed for people to be successful. Thriving cultures anticipate and provide workplace tools and technology to support the modern workplace.
Continually Focus on Culture
Keep culture top of mind. Thriving cultures often create leadership-sponsored, staff-driven committees focusing on culture, interpersonal relationships, and overall workplace well-being, manifested through weekly newsletters, incorporation into staff retreats, internal clubs, and education opportunities.
What a THRIVING NONPROFIT Culture Looks Like
Core behaviors must also be articulated and modeled to effectively permeate into organizational culture. As leaders, team members, and colleagues, thriving cultures tend to:
Show compassion in their interactions with one another.
Monitor themselves and colleagues for burnout and other signs of need.
Encourage collaboration and connectivity in their interactions.
Check in regularly with their team and manager.
Create space to talk about workplace challenges.
Focus on relationships rather than simply tasks.
Regardless of work logistics and core behaviors, a people-first approach requires an emphasis on retaining the best people through professional growth opportunities and competitive compensation:
Provide stretch assignments and leadership development for all staff levels.
Be creative with job responsibilities and upward mobility.
Consider leadership exposure opportunities like executive coaching and the ability for people to join higher-level meetings.
Show professional pathways and growth opportunities regularly.
Encourage and provide time for employees to participate in community-building activities.
Modern Challenges Require Modern Leadership
As the workplace environment evolves, today's "new normal" will quickly become outdated. Yet the strategies to support a thriving nonprofit culture in today's "new normal" are fundamental building blocks that will likely support a thriving team in the "next normal" and beyond. An intentional people-first cultural strategy, led by and defined through exemplary leadership, will create the optimal opportunity to address modern workplace challenges.
More Insights
August 29th, 2023
Featuring essential philanthropic research from all major sources in the industry, this exclusive report examines key themes in American philanthropy and the latest data on giving by US individuals, foundations, and corporations.
August 14, 2023
If conditions are not yet optimal for a campaign, consider these tactics to advance your school's fundraising efforts.