As votes are tallied from yesterday's U.S. presidential election, many nonprofit professionals and volunteers are wondering about the potential impact of the election on philanthropy. Substantive research on the direct relationship between political giving and charitable giving is limited. Moreover, where research does exist, we must exercise caution when comparing 2020—an atypical year by many measures—to historical trends. Even still, we can take comfort in what history tells us: Americans continue to give generously to causes that are important to them amid presidential elections.
On Aggregate Giving in Election Years
Presidential elections appear to have little effect on overall charitable giving trends. Giving USA data (which does not include political donations) tells us that charitable giving increased in eight of the last nine Presidential election years.[1] The exception to this election year trend was 2008, where giving decreased in the fallout of a global financial crisis. The charitable giving numbers for an election year tend to follow the trajectory seen in previous years, whether it is an upward or a downward trend.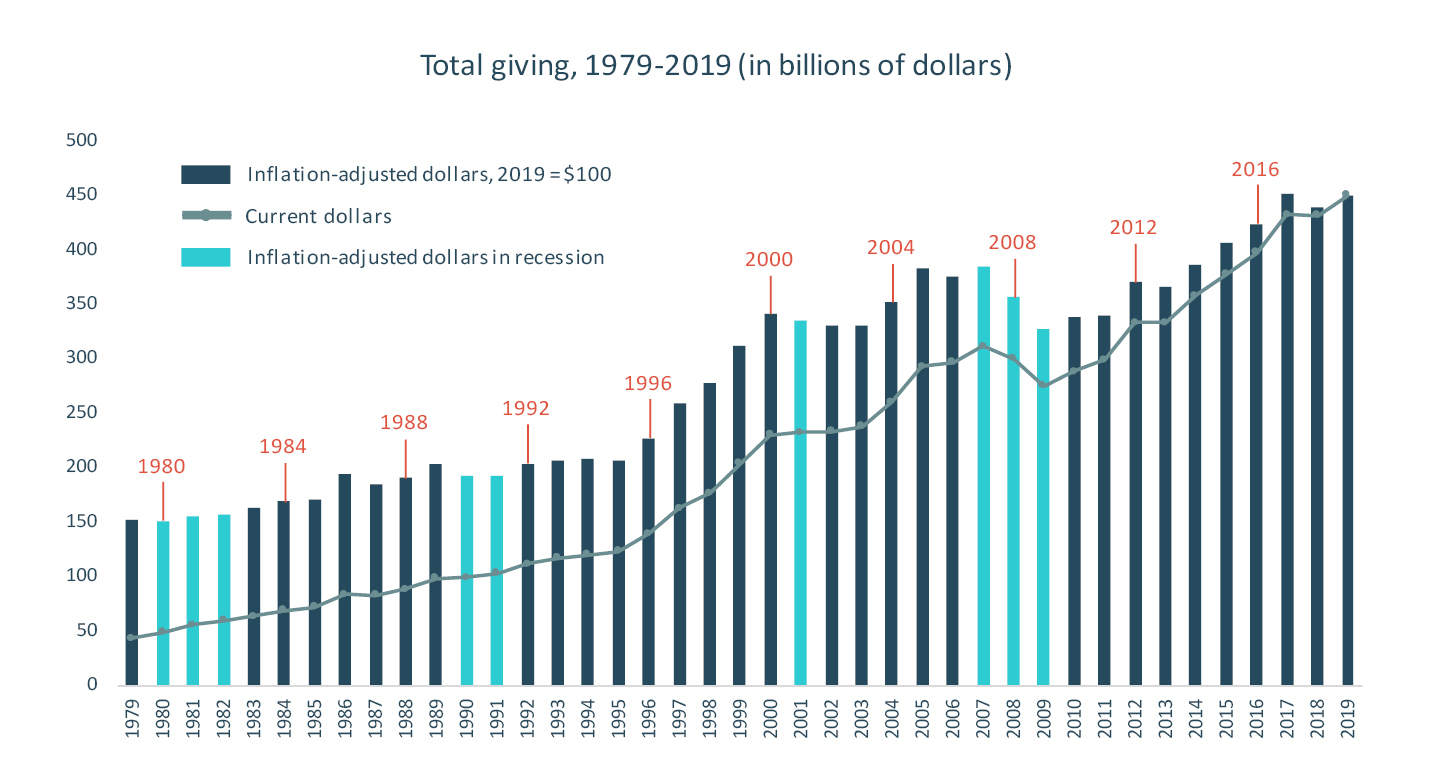 On Political Giving as a Share of All Giving
A 2017 analysis from the Mastercard Center for Inclusive Growth can help illustrate the relative proportion of political giving to charitable giving.[2] This report examines data from electronic donations made with Mastercard to both political organizations and charitable organizations. As shown in Figure 2, giving to charitable organizations makes up the vast majority of donations in any given month from January 2004 through December 2016. In the final few months of each presidential election, political giving spikes as a percentage of total giving, then resettles to lower levels shortly afterwards. In more recent presidential election years, it appears that political giving is making up an increasingly larger percentage of all giving during the months surrounding the election, hovering around 12% in the fall of 2016 compared to around 8% in the fall of 2004.

The increasing share of giving during election seasons dovetails with other research that more and more Americans are donating to political candidates over time. In recent years, charitable giving has seen a "dollars up, donors down" phenomenon while giving to presidential campaigns has seen more of a "dollars up, donors up" trend. According to data from American National Election Studies (ANES), 12% of U.S. adults say they donated to a political candidate in 2016, compared to 6% in 1992.[3] By contrast, the share of U.S. households donating to charity decreased from 66% in 2000 to 53% in 2016.[4]
On Whether Political Giving "Crowds Out" Individual Charitable Giving
Though it seems logical that people who donate to political campaigns in a given year would donate less to charity that year, there is little empirical evidence to support this hunch. In fact, a study by Blackbaud suggested that in the 2012 election, donors who gave to presidential and other federal candidates (as tracked by the Federal Election Commission) tended to increase their overall donations to charity in 2012.[5] This study examined giving to 143 organizations in the sectors of Arts and Culture, Environment and Animals, Healthcare, Human Services, International Affairs, and Public Society Benefit. In aggregate, donors who donated to political campaigns donated 0.9% more to these charitable organizations in 2012 than in 2011. Those donors who did not give to political campaigns reduced their giving by 2.1% over the same period. While these findings are notably limited by sector and represent a small percentage of all charitable organizations in the United States, they provide compelling evidence that is useful for fundraising professionals who are considering soliciting funds from known campaign donors.
On "Rage Giving" After Presidential Elections
Following the 2016 election, anecdotal reports of an increase in donations to politically progressive causes, coined "rage giving", were widely reported in the media. Several small studies appear to support the idea that following a presidential election, donors may be more inclined to donate to causes associated with the losing candidate's party than they otherwise would be. While many of these studies have relatively small sample sizes and tend to focus on online giving—which as of 2019 made up an estimated 8.7% of all charitable contributions—the research provides some empirical evidence for the phenomenon of "rage giving."[6]
A 2018 study by the Women's Philanthropy Institute at Indiana University's Lilly Family School of Philanthropy examined online giving data from Charity Navigator for the weeks before and after the 2016 presidential election, and compared the 2016 data to analogous time periods in 2015 and 2017.[7] Significant differences in 2016 giving levels were observed for organizations that were perceived as being politically progressive or liberal. Furthermore, the study found that this atypical fundraising increase was largely driven by women, as shown in Figures 3 and 4.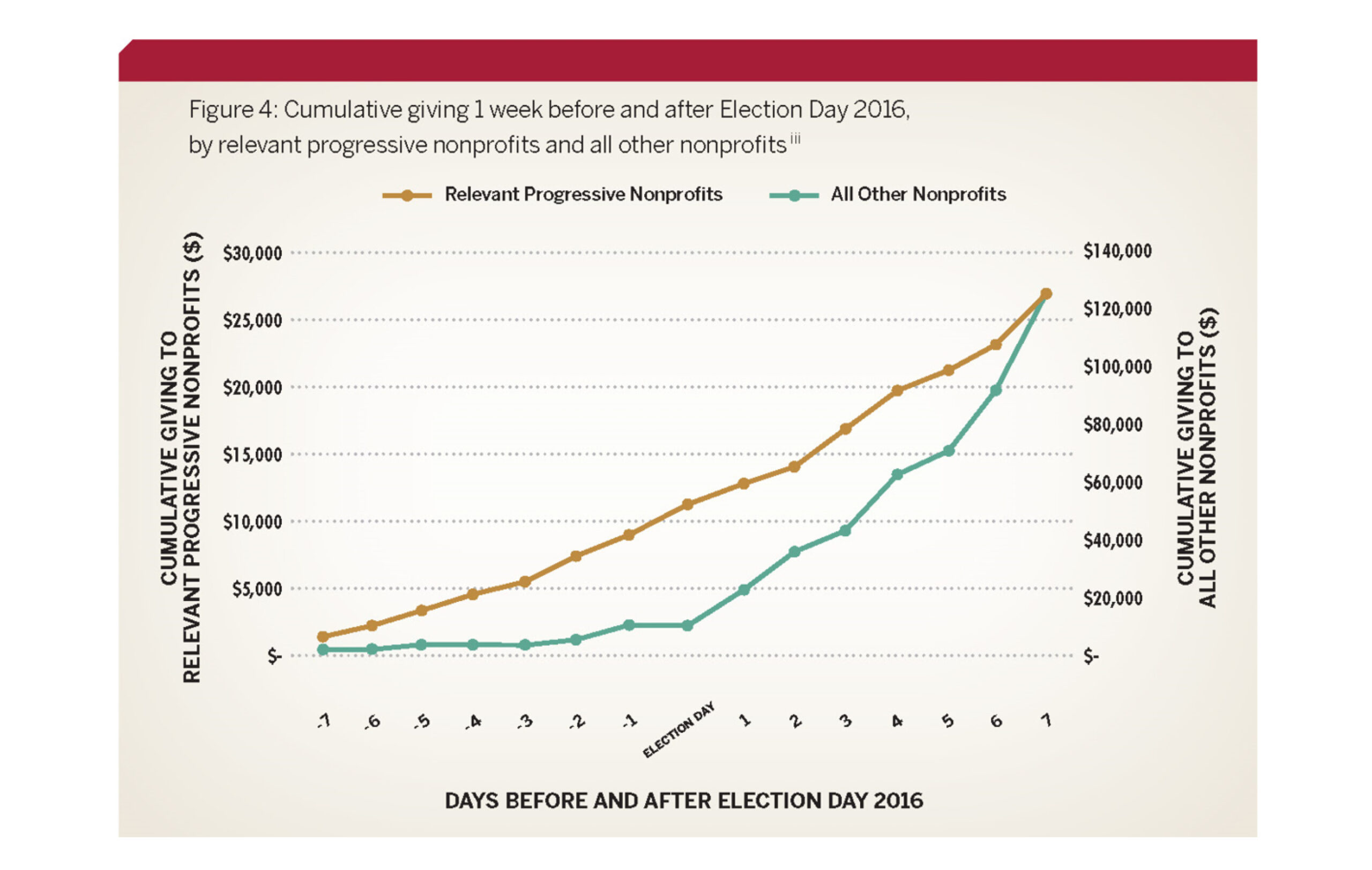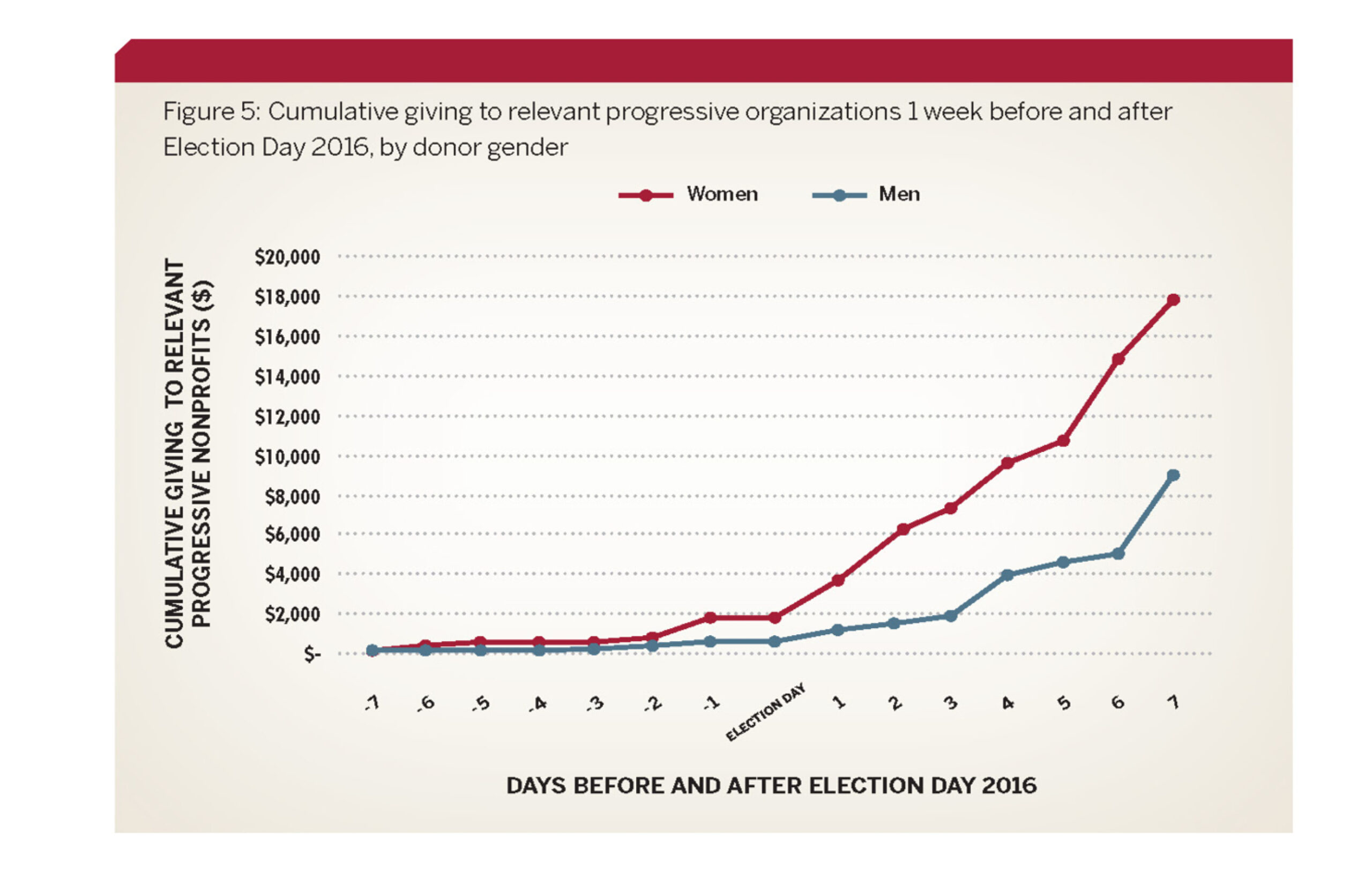 Online donation platforms such as Classy and Bright Funds similarly reported atypical increases in donations to charities perceived as progressive immediately following the 2016 presidential election.[8]
A 2019 analysis by the Chronicle of Philanthropy, though limited to a small sample size, suggests that a similar phenomenon has occurred in at least three other elections.[9] In this project, the Chronicle examined the 990 informational tax forms of 37 nonprofits (which could be identified as either "liberal" or "conservative") to compare how contributions to these organizations changed during the last four presidential election years (2016, 2012, 2008, and 2004) compared to the preceding year (2015, 2011, 2007, and 2003). On average, nonprofits associated with the opposite political ideology of the winning candidate saw a 57.55% increase in contributions compared to the previous year. Organizations associated with the same ideology as the new president saw a 2.9% decrease in contributions on average.

However, nonprofits certainly do not have to be in a "rage giving" category to continue sustaining support for their mission right after the election. As discussed earlier, Giving USA data tells us that aggregate giving numbers tend to follow their pre-existing growth or decline trajectory during an election year. Data from the 2018 Women's Philanthropy Institute study allows us to zoom in more on online giving immediately around the 2016 presidential election. For all types of nonprofits examined—not just the progressive-leaning ones—giving levels were similar to, though slightly less than, contributions in similar periods in 2015 and 2017.[10]
CCS's Advice for Charitable Organizations
Continue fundraising efforts. More than $3 billion was donated to the two major party candidates in the 2020 election, which can lead to concern about the competition that political giving may pose to charitable giving.[11] While it is certainly important to research the political giving of your largest donors in advance of major requests, know that history tells us that donors continue to support their favorite charitable causes during an election year. Record numbers of Americans voted in the 2020 presidential election.[12] Regardless of whom these Americans cast their vote for, the sheer number of participants is an exciting indicator of increased civic engagement in the United States, which could potentially have ripple effects on charitable giving and volunteering.
Practice empathy and awareness. Especially given increased voter turnout during this election, remember that emotions are running high right now. It is essential for charitable organizations to lead with empathy when communicating with donors, staff, and volunteers. Stay aware of how the election results may be affecting the lives of those closest to your organization.
Remain committed to your mission. Now is a time to reaffirm your organization's mission, purpose, and values. If your mission was relevant before the election, it will continue to be relevant afterwards. With this idea in mind, continue your communication with donors, taking the opportunity to thoughtfully articulate the relevance of your cause in today's world. Americans are passionate about a wide range of causes, from the environment to the arts to human services. These passions continue regardless of election outcomes, policy changes, and other societal factors. Today, as always, charitable giving is a way for Americans to support the values they cherish and empower the organizations that contribute to their communities and world.
To get more data on the state of philanthropy in the United States, check out CCS's annual Philanthropic Landscape report.
Sources
[1] The Giving Institute, Giving USA: The Annual Report on Philanthropy (2020) https://givingusa.org/
[2] Mastercard Center for Inclusive Growth, Donation Insights (March 2017) https://partners.mastercard.com/donation-insights/
[3] Pew Research Center, "5 facts about U.S. political donations" (2017) https://www.pewresearch.org/fact-tank/2017/05/17/5-facts-about-u-s-political-donations/
[4] IUPUI Lilly Family School of Philanthropy, 16 Years of Charitable Giving Research (2019) https://hdl.handle.net/1805/21470
[5] Blackbaud, Giving in an Election Year: How Political Giving Impacts Nonprofit Support (2016) https://institute.blackbaud.com/asset/giving-in-an-election-year/
[6] Blackbaud, Charitable Giving Report: Using 2019 Data to Transform Your Strategy (2020) https://institute.blackbaud.com/asset/2019-charitable-giving-report/
[7] IUPUI Women's Philanthropy Institute, Charitable Giving Around the 2016 Election: Does Gender Matter? (2018) https://philanthropy.iupui.edu/institutes/womens-philanthropy-institute/research/elections.html
[8] Classy, "'Election Effect' Drives Unprecedented Increase in Recurring Donations'" (n.d.) https://www.classy.org/blog/election-effect-drives-increase-recurring-donations/. USA Today, "Charitable platform saw increase in progressive donations following the election" (2016) https://www.usatoday.com/story/news/politics/onpolitics/2016/12/14/charitable-platform-saw-increase-progressive-donations-following-election/95426220/.
[9] The Chronicle of Philanthropy, "Was the 'Trump Bump' a One-Time Phenomenon for Charities?" (2019) https://www.philanthropy.com/article/was-the-trump-bump-a-one-time-phenomenon-for-charities/?cid2=gen_login_refresh&cid=gen_sign_in
[10] IUPUI Women's Philanthropy Institute, Charitable Giving Around the 2016 Election: Does Gender Matter? (2018) https://philanthropy.iupui.edu/institutes/womens-philanthropy-institute/research/elections.html
[11] NPR, "Money Tracker: How Much Trump And Biden Have Raised In The 2020 Election" (2020) https://www.npr.org/2020/05/20/858347477/money-tracker-how-much-trump-and-biden-have-raised-in-the-2020-election
[12] Foreign Policy, "Historic U.S. Turnout Still Lags Behind Major Democracies" (2020) https://foreignpolicy.com/2020/11/03/historic-united-states-voter-turnout-2020-election-behind-other-democracies-global/