Forecasting fundraising revenue can be a difficult task for nonprofits in any given year. In such a tumultuous year as 2020, forecasting is an especially tall order.
Amid so much uncertainty about what the future holds, it can help to center your forecasting exercises around two key principles:
With so much unknown, focus on what you do know. As fundraisers, what we know is our donors. We know who they are, how they've given, and when they've given. With that information, we can make some smart assumptions about how our donors might give next year.
Focus on the funding sources that have a disproportionate impact on your total funds raised. For many nonprofits, 80-90% of funds come from 10-20% of donors. If you can understand what this top percentage of donors is giving, you can understand a lot about your fundraising revenue for the next year.
CCS has developed a downloadable Excel tool to help nonprofits make sound forecasts for the upcoming year. Using this tool and the tips in this article, you can get well on your way to forecasting revenue and developing sound strategies for 2021. We recommend following these five steps:
Get the lay of the land
Start with top donors
Make a plan for each revenue stream
Pull it all together in a table of gifts
Turn your plan into action
Step 1: Get the Lay of the Land
Before diving into making projections, take some time to set yourself up for success.
Sector Historical Data
It can be helpful to first get an idea of the broader philanthropic landscape. Giving USA's annual report is a good resource for overall giving statistics. For example, we can see from the Giving USA data below that in the Great Recession, it took roughly five years for the US to reach pre-recession giving levels. Other recessions saw less severe fundraising recovery timelines. It's helpful to have this information as a backdrop for your projections.
CCS produces an annual Philanthropic Landscape report summarizing the major industry research on philanthropic giving in the United States. This report can also prove useful as you get a lay of the land.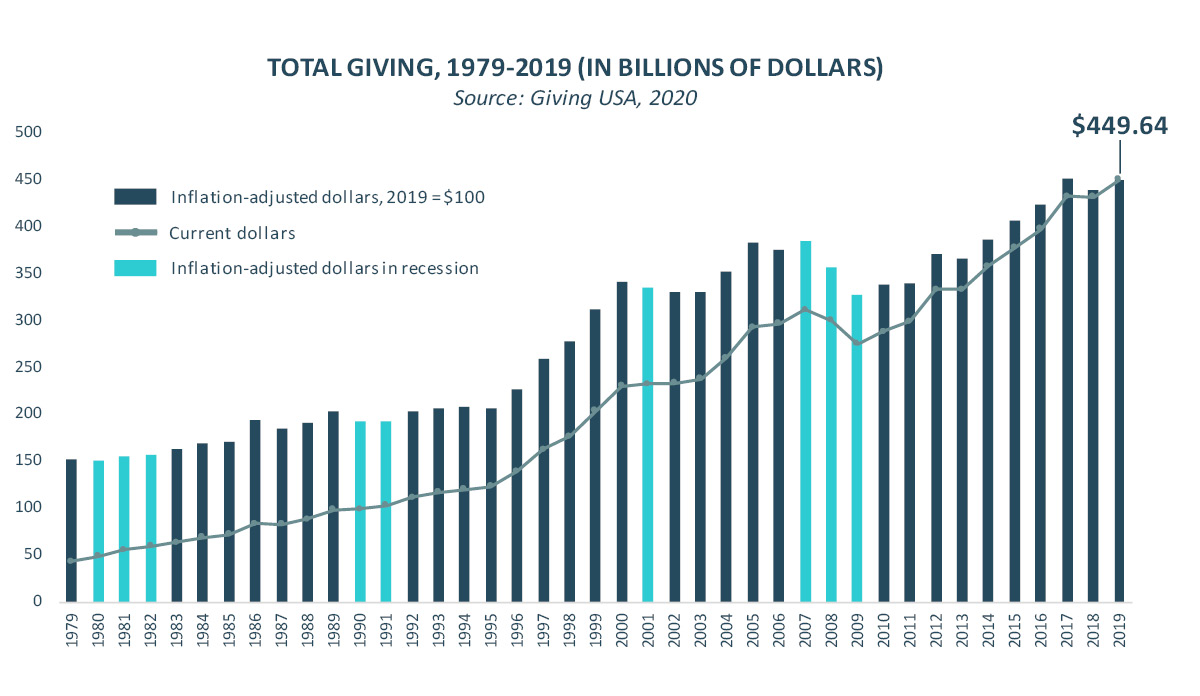 Your Historical Data
Make sure to also devote significant time to understanding your own data. We recommend looking at:
Year-over-year total funds raised for at least the past five years. This data will help you understand what your baseline looks like. If you have data going back further than five years, that's great! If it goes back to 2008, even better—that data might be able to signal the impact of the last recession on your fundraising and provide helpful context for our current economic climate.
A list of top current and potential donors and their giving histories. Compile a list of donors (individuals, corporations, and foundations) with the potential to give $10K+ next year. Prospects would include donors who have given $5K+ in the past and donors who have scored highly on your wealth screening ratings.
Subtotals by method or revenue stream. To understand how revenue came in, look at funds received by each method. Your revenue streams may include major gift solicitations, online fundraising, direct mail, grant applications, etc.
Last year's table of gifts. This chart lists out the number of donors at each giving level. A historic table of gifts is key to understanding the breakdown of your revenue.
We recommend starting with these basics, but you can certainly pull more pertinent information into your projections.
Step 2: Start with Top Donors
Once you have your data in place, you'll want to focus first on your group of top donors. Remember, your best prospects are those who have already given generously to your organization.
Setting Up a Tracking Worksheet
Given how important these few donors are, track every top donor by name in a worksheet.
In our Excel tool, we've provided a template to track this information in tab one. In this worksheet, examine each donor's historical giving. Determine what you plan to ask them for in 2021, and what you think they'll donate in response.

Keep in mind that what we expect a donor to give is not the same as what we will ask them for. We recommend being conservative with gift projections, but optimistic with request amounts. Just because we're in a turbulent year doesn't mean you can't aim high and be bold in gift requests. Your mission is just as important, if not more important, in trying times like these. Still, it's best to be conservative in estimating what a likely 2021 gift might be.
How to Project a Likely 2021 Gift
So how do we go about estimating what a donor might give next year?
To start, look at the donor's past giving and recent behavior.
Consider your organization's "batting average" for gift requests. Historically, how much did funders give in comparison to what they were asked for?
Use the research tools you have at your disposal. For example, wealth screening tools like WealthEngine or iWave can provide context on the prospect's financial capacity.
Keep in mind that the best indicators of what a donor might give comes from personal conversations with the donor.
How to Approach a Personal Conversation with a Top Donor
It's a great stewardship practice to call your top donors to check in, especially amid such turbulent times. During these check-in calls, you can also test the waters for next year's giving potential. The table below provides some helpful guidance for this communication.
Listen for cues about how your donor has been impacted by the tumults and tragedies of 2020. Depending on your relationship with the donor, they might share if they've been impacted health-wise or employment-wise by the COVID-19 pandemic. The donor may also mention their philanthropic priorities, for example by saying something like "we're really invested in helping our son's school navigate this time."
These conversations will hopefully give you a sense of the donor's giving potential for the upcoming year. Additionally, these conversations can set up the next step: scheduling a solicitation meeting.
Step 3: Make a Plan for Each Revenue Stream
Once you have projections for your top donors established, it's time to look at other revenue streams. In our Excel tool, you'll find a worksheet to track this information in tab two.

For each revenue stream, look back at its past performance at your organization. Then marry that organizational information with current industry trends.
Some overall trends CCS is observing are described below. Keep in mind that these trends are not universal for all organizations. Even organizations of similar missions, sizes, and locations are seeing their fundraising evolve in unique ways.
Individual Major Gifts and Foundations: The top donor worksheet you just completed will help inform what next year's giving will look like. Generally, CCS feels optimistic that individual major gifts will be relatively stable, perhaps slightly up or down depending on your sector, how your donors have been impacted by COVID-19, and your ability to make the case for a gift. Institutional funders also seem to provide good opportunity for the future. We've seen many foundations increase their giving or remove reporting restrictions in response to COVID-19.
Corporate Giving is a bit more mixed. There are huge disparities in how different industries have been impacted by the COVID-19 pandemic. Vet your corporate donors to see if they've been hurt greatly during the crisis (for example restaurants, brick and mortar retail, and hotels) or are thriving in the current environment (for example information technology, e-commerce, and delivery services).
Direct Mail engagement has been trending down in general over the past few years. We'd suggest projecting flat or decreased totals here.
Online Giving has been in general trending up. We'd typically suggest projecting a mild increase, especially if your organization is undertaking digital marketing campaigns and harnessing events like #GivingTuesday.
Special Events are obviously a big question mark until social distancing requirements can be relaxed. We'd suggest being very conservative here, even if you're able to replace in-person events with virtual ones.
Bequests are always unpredictable. It's good to plan conservatively here.
Non-Bequest Planned Gifts might see an increase. For example, in 2020 we've already seen a surge in Donor Advised Fund (DAF) giving.
Other/Whitemail: Again, it makes sense to be conservative with more unpredictable gift sources.
To Learn More: Download our latest Fundraising Impact of COVID-19 survey report to learn how your nonprofit peers expect different fundraising programs (major gifts, foundations, etc.) to perform for the remainder of 2020.
Step 4: Put It All Together in a Table of Gifts
Next, bring all these data points together on your table of gifts. Our Excel tool will walk you through creating this chart.

In the example pictured above, we can see that the majority of funds (95%) is projected to come from 12 donors. If we can focus on accurately projecting these 12 donors' gifts, and focus on making sure these gift projections become a reality, we'll be in good shape for 2021. Of course, we still need to get direct mail out the door, launch our online appeals, and fulfill the rest of our fundraising plans, but the bulk of our focus should be on the top part of this table of gifts.
Step 5: Turn Your Plan into Action
Now it's time to determine how you can make your gift projections a reality. Our Excel tool has a sample timetable where you can plot out your projections month by month.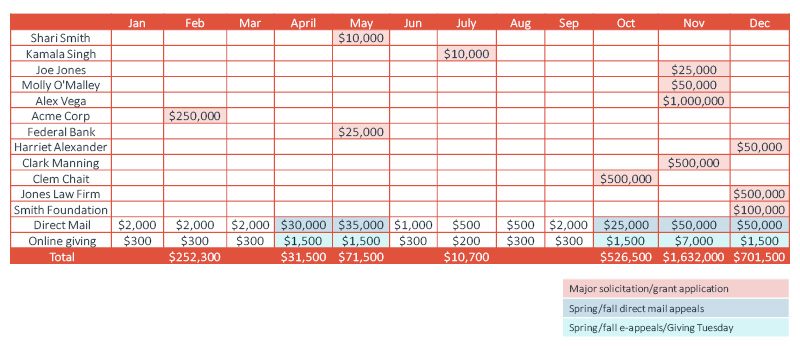 Considerations to keep in mind when filling out this chart:
For top donors, oftentimes the next gift will be a year out from their last gift. For foundations, the foundation granting cycle will inform timing.
You can also plot out when your direct mail appeals and big online giving campaigns are, so you know when to expect surges in revenue from these sources.
You can't usually plot out sources like bequests, but most of your revenue should be anticipated in the chart.
A chart like the above will help you compare projections versus reality. You'll be able to know early on if you were too conservative or optimistic in your projections. After reviewing your progress, you can then adjust your projections for the remainder of the year as appropriate.
Tips for Success
The method described above is just one method among many that can be used to forecast fundraising revenue. As you continue planning for 2021 and adjusting your course as the year goes on, keep the following principles in mind:
Take time to pull and organize data and look at key trends
Focus on your top donors
Be optimistic with gift requests but conservative in projections
Lay your projections on a timeline so you can adjust in real time
Happy forecasting!
Planning for the future of your organization's fundraising?
CCS offers a suite of services related to organizational planning and fundraising strategy.